Happy Birthday Dear Ruuuuuuuuuuby!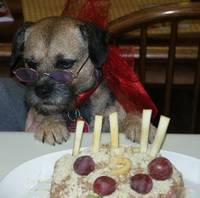 Guess which lunatic squirrel killer turned 5 yesterday? (Yes we make meat cakes with candle apples for all doglet birthdays at our house, which is more than the humans get...yes we are that ridiculous about our dogs, can you imagine what it will be like with the pod?)
PS. D made her get dressed up for her party, with stupid birthday bow and ridiculous dog sized sunglasses. He also hand carved a '5' out of apple.