Guess who's finally here?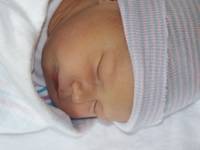 Nell arrived at 3:40 pm, May 6. She was 8 lbs 6 oz, 20. 5 inches long. She's gorgeous and we are absolutely over the moon. She's a bit yellow at the moment, and that delayed us a bit at the hospital, but we are happily home now.
My induction was delayed by a day due to the hospital being absolutly full when we showed up May 4. On May 5, in the evening I started on cervidil. At 7 am May 6, I had very little progress, but at least my cervix had effaced. Pitocin was started at 7 am, at about 7.45 am I felt a horrific thunk on my cervix, and immediate excruciating back pain. It is like nothing I've ever felt, even when I was layed up with my back injury last year. I was absolutley in a panic and in horrific pain. Contractions were on top of each other, and I just couldn't catch my breath/stop throwing up/ or stop screaming. Even with no dilation, my doctor ordered an immediate epidural. I was upset, anticipating this would mean a sure csection, but to our surprise, by two pm, after napping all morning... my nurses said I was ready to push.
After the epidural I no longer felt any of the back labor I had experienced, and Nell was born after only 45 minutes of pushing.
She's gorgeous, and we just couldn't be happier. She's a bit jaundiced, and we are working hard on the breast feeding.
Thanks for all the good wishes.